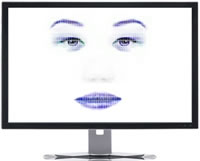 Turing's approach to a triggered a series of "chatterbots," programs which were designed to interact with humans in a realistic way. Natural language processing was difficult for AI researchers to solve due to the huge difference in the way humans and machines process language. We learn through interaction with other people and the environment and create language networks with multitudes of categorizations, context groupings, and subtle associations. A computer's language is very literal. Even if rules of language are programmed in, it's been a challenge to program in the exceptions and the associations between words or implied within a story.
So, some of the first programs cheated, using weak AI techniques to generate scripts to trick people within a limited context. ELIZA was created at MIT between 1964-66 by Joseph Weizenbaum. It was programmed to take a user's input and process it according to some programmed-in script. The most famous script, DOCTOR, would change a response syntactically into a generic question or leading statement, then pose it back to the user. It was meant to be a parody, and utilized the psychoanalysis style of open-ended questions that require very little actual knowledge. For example, it may turn "I'm not happy" into "Why do you think that you aren't happy?" ELIZA used simple pattern-matching techniques, but worked so well that in some cases the users refused to believe that they were talking to a machine. A later program, PARRY, used the opposite approach of ELIZA's DOCTOR and instead would play off of user input to rant about its own beliefs, fears, and anxieties.
Sample of a dialogue between ELIZA and PARRY:
"parry: People get on my nerves sometimes.
eliza: I am not sure I understand you fully.
parry: You should pay more attention.
eliza: Suppose you should pay more attention?
parry: You're entitled to your opinion.
eliza: What makes you think I'm entitled to my opinion?
parry: It bothers me just to be around people.
eliza: Please go on.
[Parry continues with some paranoid ramblings about horseracing, bookies, and the Mafia]
parry: I know the mob controls the big rackets.
eliza: Who are you really talking about?
parry: Have you ever really thought about the Mafia?
eliza: Suppose you ever really thought about the Mafia?
parry: Let's talk about something else.
eliza: I am not sure I understand you fully.
parry: You keep asking me the same things, why not change the topic?
eliza: In what way?
(etc.)"
More advanced versions of Turing-style language processing AI machines include William Chamberlain's RACTER (1983), which parsed text input into specialized templates to write poetic prose. Though the code for Racter was never released, an interactive version of the program was released the next year which parsed text inputs into a collection of specialized templates and modules. Racter "wrote" the book The Policeman's Beard is Half Constructed, though the output was likely closely guided by Chamberlain.
Sample of a dialogue between ELIZA and PARRY:
eliza: Hello. Please state your problem.
racter: Excellent! Excuse me a minute while I attend to some business. I will be right back.
eliza: Why do you need to tell me excuse while you attend to some business?
racter: Is it better to need or to despise? Why is it that I do need to tell you to excuse myself to attend to some business? Because electrons are brave. Braveness is nice, don't you think? And the needers all insist upon it. Do you imagine I am a Communist?
In 1991, a prize was established for the winner of a competition of Turing-style programs. The winner was the machine that demonstrated the "most human" conversational behavior. Some of the winners – such as the chatterbot A.L.I.C.E. - were weak AI based on ELIZA-like pattern recognition. More recent chatterbots learn from real-time user interaction (Jabberwacky) or combine real-time learning with evolutionary algorithms rather than being driven from a static database (Kyle).
I would posit that IBM's Watson is, at present the most highly evolved AI developed from the Turing tradition of chatterbot-like AI. Watson answers natural language questions, and is so good that, in 2011, he competed on Jeopardy! against two reigning champions and won. Watson's strengths highlight the progress of AI, but its weaknesses evidence the limitations. For one, just as predicted by Moore's law computer performance has been doubling every 18 months. Watson had four terabytes of content (around 200 million pages) that it drew upon, and 16 terabytes of RAM. Each question triggered a massive amount of parallel computing on his part, and he could process 500 gigabytes (or about a million books) per second. Watson, for all his massive computational ability, still was in the tradition of weak AI.